Mark Kelly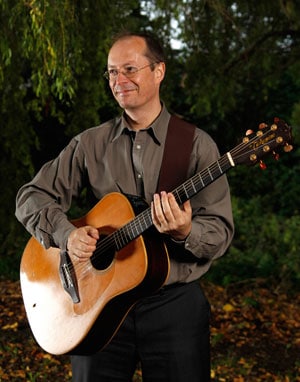 Mark Kelly's earliest musical inspirations were rock and jazz. Born and raised in Dublin, his mother was a jazz singer.
Like all the other members of the band, Mark listens to a wide range of music especially Steely Dan, rhythm and blues and country.
Mark brings more of those subtle and sometimes adventurous influences from other traditions to his work on guitar arrangements for Altan. Not a man to rest on his laurels he has turned his attention to studying classical guitar in recent years.
It was the O'Briens of Coolock, whom Mark met on holidays in 1975 in the Connemara Gaeltacht of Tír an Fhia, who first sparked Mark's interest in Irish traditional music and in the challenges of bringing what he already knew to creating new arrangements for the old music