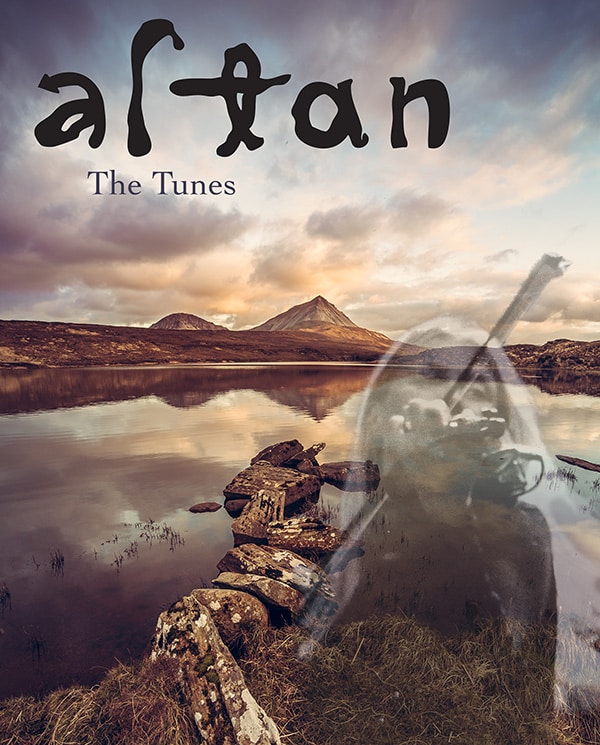 Altan: The Tunes
Altan are delighted to present their first printed collection of instrumental music. Spanning thirty years, twelve studio albums and comprising 222 tunes across its 206 pages, this book delves into the history, folklore and the composers and musical heroes from whom the music was collected. Harmonic arrangements have been specially edited for accompanists and a range of photographs are placed throughout that chart the many friendships and adventures that come with years of playing music around the world.
Each chapter begins with an insight into the thought process behind the making of each album, underpinned by an in-depth introduction from Mairéad Ní Mhaonaigh that paints a vivid picture of the people, places and events that inspired the band to begin and to continue its journey:
"We play music which came from people that we loved and respected and were proud to know as friends. As is the cycle of life, a lot of these wonderful musicians are no longer with us, but their music and memories and stories remain. Their legacy is what is here in this book and above all we try to carry their humanity in every note."
We hope you enjoy this collection as much as we enjoyed compiling it.
Editor: Dr Martin Tourish
Text: Mairéad Ní Mhaonaigh & Altan
Additional Research: Martin Tourish, Dáithí Sproule
Text Editing: Martin Tourish, Dáithí Sproule, Mark Kelly
Transcription: Martin Tourish
Guitar Chords: Mark Kelly
Book Design: Hilary Sweeney
Cover Image: 'Errigal' by Rory O'Donnell, Ranafast, Ireland
Printed by: Walsh Colour Print, Castleisland, Co. Kerry, Ireland
Published by: Altan
"…a fascinating, well thought out book, which pays tribute to the musicians who passed these tunes on, and which reinforces yet again Altan's status as outstanding and effective carriers of their legacy." - Fiona Heywood, The Living Tradition
Altan wishes to thank The Arts Council of Ireland for supporting this project.