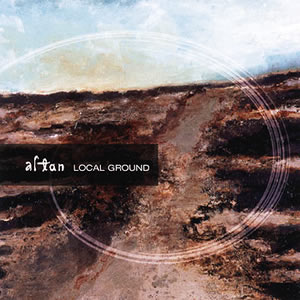 2005 - Local Ground is Altan's 10th studio album in the 20 years since they first came together as a band. Their musical friendships have been forged and proven in innumerable kitchen and pub sessions in Ireland and subsequently on folk club and concert hall stages throughout the world. They retain the energy and enthusiasm that originally shaped and propelled their music even after twenty years together. Their dynamic live shows continue to convey a pride and respect for a tradition the band love. This respect for their own roots is reflected in the title and content of their new album - Local Ground.
It is appropriate that the words "Local" and "Ground" are joined in the album title. Altan have always celebrated and valued the local in their music. Traditional music can be said to be of and from a place. This focus on the celebration of place is important to Altan. The band are always aware of their geographical and musical roots in Donegal way up in the north-west of Ireland. Donegal is strong in culture, music and language. It is a place of great beauty, and the rugged landscape is reflected both in the character of the people and in the music that those people make.
There is an unbroken and venerable tradition of fiddle-playing in Donegal. The music is played in homes, pubs and occasionally, more formally, on concert stages. This music essentially performs a social function: it entertains and enriches the local community. It is used for listening and for dancing. It can provide a backdrop for people to meet and talk. It is valued as being not just a rich form of personal human expression but also as acting as a form of social glue - it helps bring people together. It performs another important function in helping to strengthen local identity. The names of tunes can often carry the name of the person who played them (like Con McGinley's Highland) locally or can commemorate a significant local event or place (The March of the Meenatoitean Bull, The Humours of Castlefin).
The title Local Ground comes from a painting, which is reproduced on the cover art, by the Irish artist, Bernadette Kiely. Bernadette is based in Kilkenny.
Mairéad Ní Mhaonaigh, fiddle, vocals
Ciaran Tourish, fiddle, whistle, vocals
Ciarán Curran, bouzouki, mandolin
Mark Kelly, guitar, bouzouki, vocals
Dermot Byrne, accordion
Dáithí Sproule, guitar, vocals
With: Stephen Cooney, Graham Henderson, Jim Higgins, Dónal Lunny, Tríona Ní Dhomhnaill, Carlos Núñez
Éirigh 's Cuir Ort Do Chuid Éadaigh
Tommy Peoples/The Road To Cashel/The Repeal of The Union/Richie's Reel
Is the Big Man Within?/Tilly Finn's Reel
Adieu, My Lovely Nancy
Bó Mhín na Toitean/Con McGinley's Highland/Seanamhach Tube Station
Amhrán Pheadair Bhreathnaigh
The Roseville
As I Roved Out
Spórt
The Humours of Castlefin/Nia's Dance/An Dúidn
The Wind and Rain
The Silver Slipper
Dún Do Shúil (Close Your Eyes)